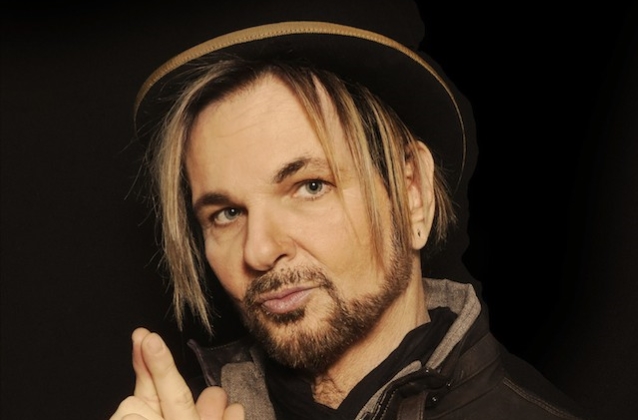 Rikki Rockett was recently interviewed by the
"Wired In The Empire"
radio show, which airs on 96.7 KCAL-FM in Riverside/San Bernardino, California. You can now listen to the chat below.
Asked if there is any talk of POISON recording new music in the not-too-distant future, Rikki said: "Oh, God! I hope so. It's so long overdue, it's crazy. There's nothing more I'd like than that. We've talked about doing some stuff, but I don't have anything to announce right now. But we have been talking about things, so hopefully something will grow from that."
Rockett also discussed the current status of his DEVIL CITY ANGELS project, which he originally formed in 2014 with guitarist Tracii Guns (L.A GUNS), bassist Eric Brittingham (CINDERELLA) and vocalist Brandon Gibbs.
"We were getting a lot of traction when I got cancer, and then a lot of things fell around me — I got the cancer, I went through a divorce; all this stuff sort of happened at once," he said. "And Tracii moved on and went back to L.A. GUNS, which I think is great. I think that's where he should be. And I love playing with the guy. But, I mean, that's his baby, you know what I mean? He's killing it with that. Eric moved on; he had to go make money, and he wound up with Bret [Michaels, POISON frontman], actually. So Brandon and I decided to keep this thing going, so we got Joel Kosche from COLLECTIVE SOUL. And we have sort of an unknown guy who was playing with John Corabi; his name's Topher Nolan, and he's in Nashville. And we just finished a track, and we're just getting ready to do… We're gonna do a video for it while I'm on the road [with POISON]. We have a couple of days off, and we're gonna go ahead and shoot that and release it, so you'll see it sometime this year. I hope we do [another] album [as well]. I'd love to. We have one album, and it's great — I really, really love that album. I'm very proud of it. And I'd love to do another one."