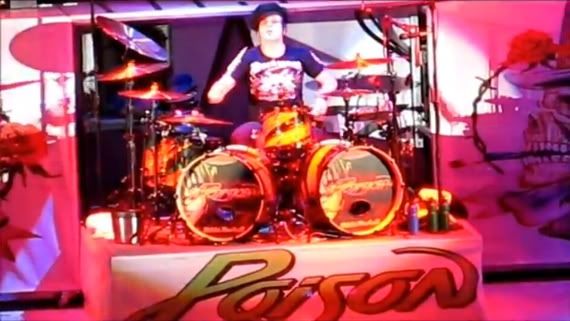 Rikki Rockett was interviewed by Cindy Scull of the Dallas/Ft. Worth, Texas radio station 97.1 The Eagle Rocks. A couple of excerpts follow.
On how POISON ended up touring with MÖTLEY CRÜE this summer after members of MÖTLEY CRÜE had less-than-kind words to say about POISON during the last few years:
Rikki: "Bret [Michaels, POISON singer] was doing some solo gigs, he was up in Canada, and somebody before the show, I think it was, mentioned about, 'Oh, you guys are doing a tour with MÖTLEY CRÜE,' or something like that. And so he mentions it on stage. He goes, 'Hey, how would you like us up here with MÖTLEY CRÜE?' All of a sudden, somehow, that got convoluted that he was trying to book a tour through the press, and that's not the case at all. He just mentioned it to the fans because he had heard something up there. So then we just kind of let it go. We said, 'OK, well, if nobody wants do it.' A couple of months later, we got a call from the CRÜE's management, and they said, 'You know what?! That's a pretty good idea. Would you like to do it?' And we said, 'Yeah, that makes sense to us.' I think it was a combination between their folks and some of the Live Nation guys and the fans. I think the fans were like, 'This is one combination we have not seen from either of these two bands. We haven't seen them on the same stage.' I think the last time we played a show in the States with MÖTLEY was Day On The Green in 1989, or something like that."
On why he thinks members of MÖTLEY CRÜE were so adamantly against the idea of touring with POISON when it was mentioned in the past:
"You know what?! I don't know, quite honestly. I really don't. I don't share that animosity. I like MÖTLEY CRÜE; I'm a fan. I think they're awesome. I think we're awesome. I love our own band. We have a lot of the same fans. Not everybody that's a POISON fan is a MÖTLEY fan and vice versa, but a big chunk is. And the fact of the matter is that somebody doesn't have one band's CD in their car all the time, or on their iPod or whatever; we all like a variety of bands and music. And honestly, I'm seeing a lot of breaking down of the barriers again, like it was-- In the Sixties, there was some crazy, different combinations of bands that would together or be on the same bill, and now it's kind of getting back to that a little bit. I mean, you're not gonna see MAROON 5 open for SLAYER -- it's not that crazy -- but there are some interesting combinations of stuff that wouldn't have happened in the past, for whatever reason. I think rock has grown up a little bit -- Look at the rap guys -- they stick together, man. They play on each other's records, they'll support each other-- They'll kill each other sometimes, too. [Laughs] But they support each other and that's why that genre of music has hung in there. And if rock's gonna hang in there, it's gotta do the same thing, and it's doing it."